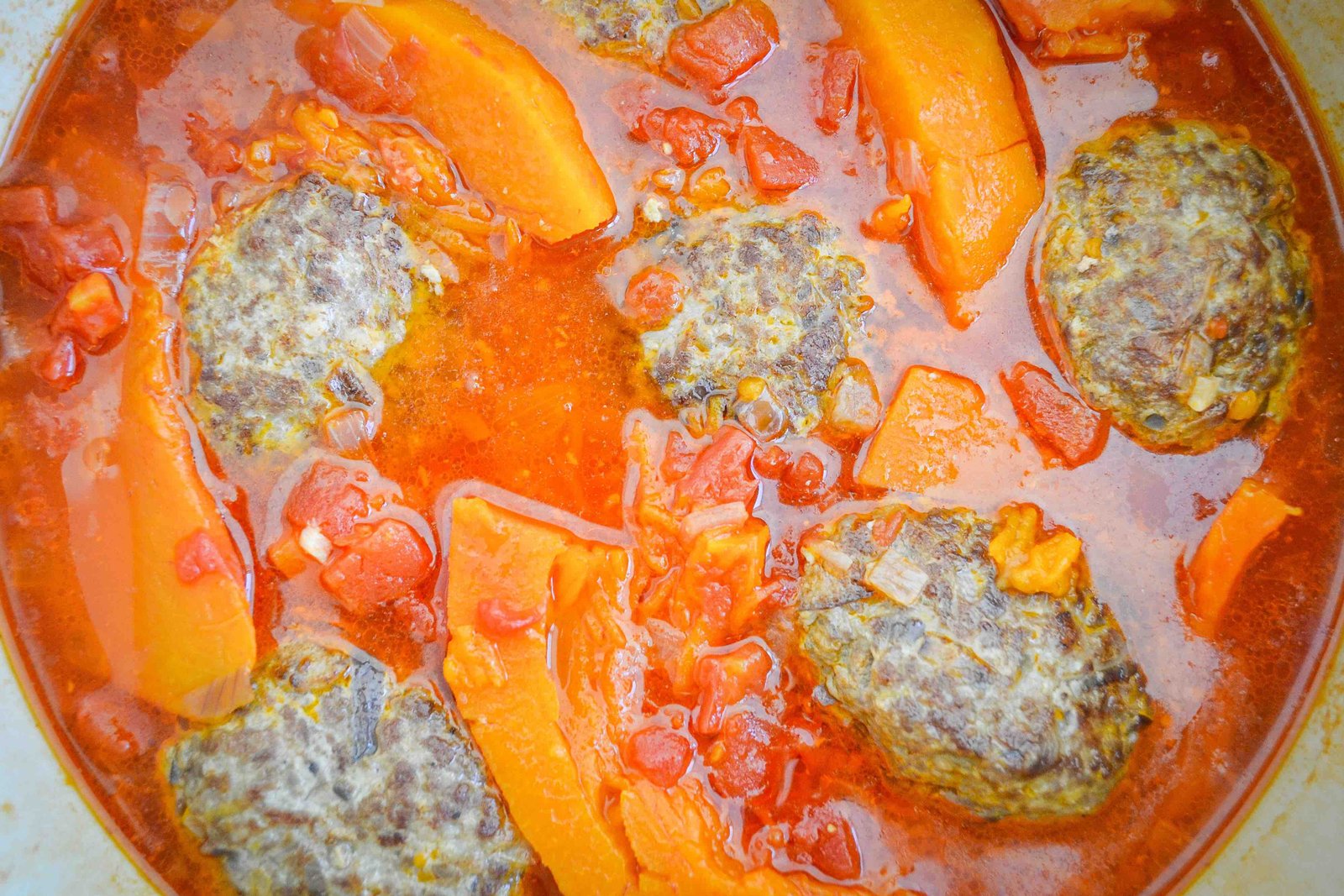 This recipe is an opportunity to cook pumpkin in an unusual way. I like the sweet taste of pumpkin combined with meat, so I chose the sweet variety of it. You can also replace the pumpkin with potatoes or batata, or you can change the amount of pumpkin at your discretion.
Recipe Ingredients
1 Red onion
4 cloves Garlic
300-400g Pumpkin (half a small pumpkin)
400g Tomato sauce (or 1 can of whole peeled tomatoes)
400ml Chicken stock
1 Lemon
2 Yolk
400g Ground beef (a prefer a combination of beef and pork)
2 tablespoons Olive oil
1/2 teaspoons nutmeg
sea salt
freshly ground black pepper
First, prepare the pumpkin
Cut half of the pumpkin into moon-shaped slices as shown in the photo. Use a vegetable peeler to peel the skin off.
Then, make meatballs
1/2 onion and two garlic cloves cut into small pieces.
You should grate a lemon peel (only its yellow part).
Whisk together the ground beef, onion, garlic, lemon zest, two egg yolks, salt, nutmeg, and black pepper in a large bowl. And stir until just combined.
Then, form the balls (4-5 cm) and fry them in olive oil for 15-20 min.
Next, make tomato sauce
1/2 onion and two garlic cloves should be finely chopped.
Heat olive oil in a medium saucepan over medium heat, and add onion and garlic. Fry it for 3 minutes until soft and a little golden.
Add the chicken stock, tomato sauce, and sea salt to the saucepan.
Finally, put it all together
When the sauce boils, add the pumpkin slices. Cook it over medium heat until the pumpkin become soft (20-25min). Transfer the meatballs to the saucepan and cook for another 10 minutes.

It can serve it as an independent dish or with side dishes like pasta or potato.
NOTES
You can also use water instead of chicken broth, but the pumpkin flavor will not be as rich. I prefer fresh garlic to garlic powder because it is more flavorful.